SHADOW LAND OR LIGHT FROM THE OTHER SIDE
Stereoscopic 16mm B/W Film 32 minutes (2000)
Cast: Kate Valk, Paul Lazar, Gen Ken Montgomery, Luna Montgomery, Shelley Hirsch - Cinematographer: Eric Muzzy
A 3D film based on the 1897 autobiography of Elizabeth D'Espérance, a materialization medium who could produce full body apparitions.
Find out more.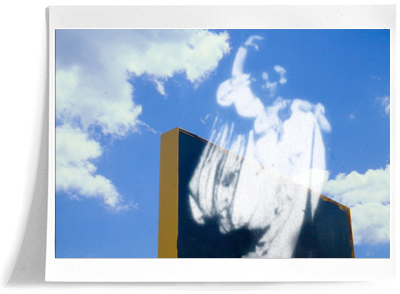 A MECHANICAL MEDIUM
Performance for Model B Kodascope16mm projector, Stereo Slide projector, 78 rpm phonograph, Tri Signal Toy telegraph Unit and other sound making machines. One hour (1999)
A collaboration with sound artist Gen Ken Montgomery.
Few people know that Edison spent the last ten years of his life attempting to build an apparatus to communicate with the dead, in his words, a mechanical medium. Though his device was never found, we will attempt, in the spirit of his enquiry to do the impossible, to conjure up phantoms, to glimpse the hereafter.
Find out more.